Local Support Bands Wanted!!
Calling out for inspiring local bands/artist to join our entertainment team!!
If you're interested in supporting some amazing live gigs, with the assistance of selling tickets & promoting shows WE WANT YOU!!
We look forward to hearing from you. Rock on!!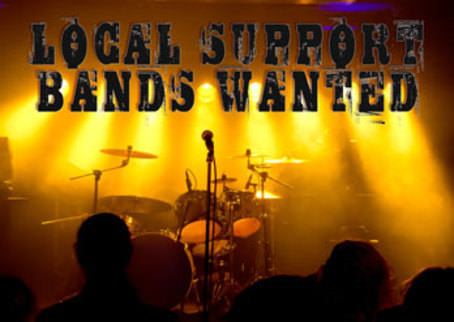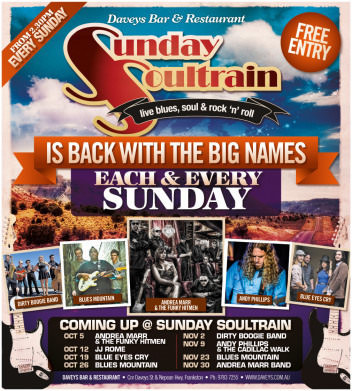 Sunday Soultrain
Every week at Daveys!
Join us every week for Sunday Soultrain! Entry is FREE from 2.30pm every Sunday.
Coming up @ Daveys - November:
2nd - DIRTY BOOGIE BAND
9th - ANDY PHILLIPS & THE CADILLAC WALK
23rd - BLUES MOUNTAIN
30th - ANDREA MARR BAND
This is a FREE event
All Ages Event - Conditions may apply
From 2.30pm
Wednesday 24th December 2014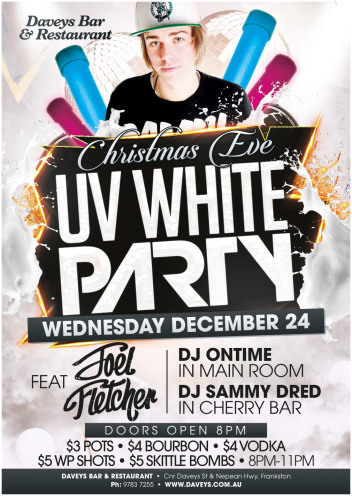 Christmas Eve UV White Party
Get in the festive spirit on Christmas eve! Dress in white and glow all night!
Join us and watch JOEL FLETCHER blow up the night! PLUS wear white and glow in all the UV lights!
DJ Ontime - in main room
DJ Sammy Dred - in Cherry Bar
Drink Specials 8pm - 11pm
$3 Pots | $4 Bourbon | $4 Vodka | $5 WP shots | $5 Skittle Bombs
$15 door charge
18+ Only - Photo ID required
Doors 8pm
Every Thursday Night from 7pm until late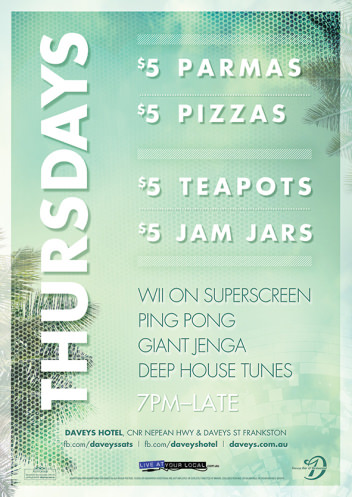 Thursdays
Your night starts here!
Your Thursday night warm-up starts here!
$5 JAMJARS | $5 TEAPOTS | $5 PIZZA | $5 PARMAS
Start your night out playing our brand new arcade games, giant jenga, ping pong, + wii on our 2m superscreen!
$5 Drinks + Feed all night!
Deep house tunes playing to get you warmed up!
This is a FREE event
18+ Only - Photo ID required
7pm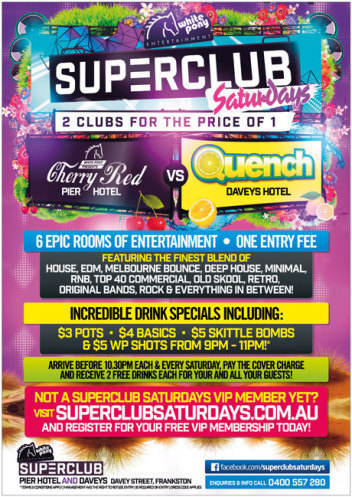 Superclub Saturdays
Two venues, 6 rooms, 1 huge party!
NOW OPEN Superclub Saturdays! 2 clubs for the price of 1!
Become a Free VIP member. Your membership will get you 2 free drinks before 10.30pm. 6 huge rooms at the Pier Hotel & Daveys Hotel!
Drink Specials 9pm-11pm
$3 Pots
$4 Basics
$5 Skittle Bombs
$5 WP Shots
$15 - One entry for 2 venues
18+ Only - Photo ID required
Doors at 9pm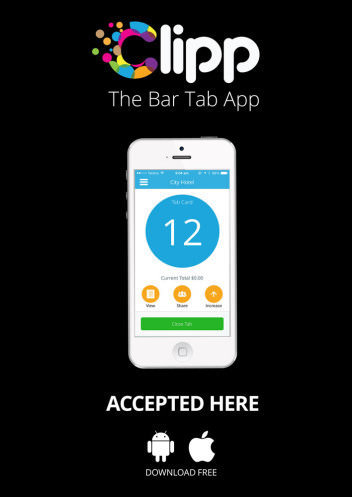 Clipp the Bar Tab App is Now Here
Clipp the Bar Tab App allows you to pay for food and drinks directly from your smartphone.
Simply download the app and connect a credit card to your account.
Set your tab limit and and flash your phone when placing your order.
View all your transactions in real time and when you're ready to leave, simply close the tab from your phone.
Come and give it a go!
See staff for details and conditions.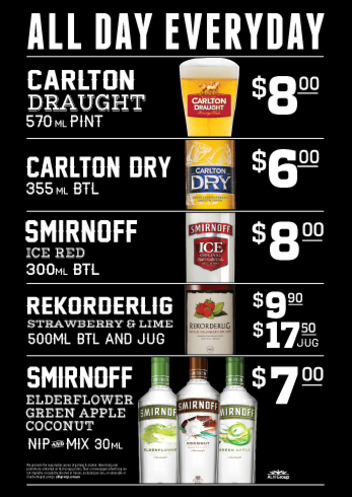 Every Day Drink Specials At The Bar
Great drink specials currently available across the bar:
Carlton Draught - $8.00 (570ml pint)
Carlton Dry - $6.00 (355ml bottle)
Smirnoff Ice Red - $8.00 (300ml bottle)
Smirnoff Elderflower, Green Apple, Coconut - $7.00 (30ml nip & mix)
Rekorderlig Strawberry & Lime - $9.90 (500ml bottle), $17.50 (jug)
Conditions may apply. Enjoy responsibly.