Local Support Bands Wanted!!
Calling out for inspiring local bands/artist to join our entertainment team!!
If you're interested in supporting some amazing live gigs, with the assistance of selling tickets & promoting shows WE WANT YOU!!
We look forward to hearing from you. Rock on!!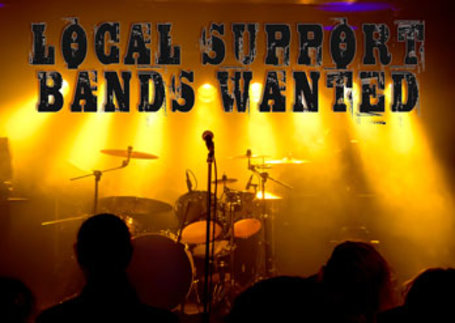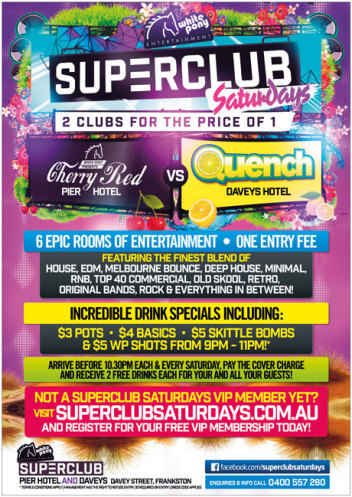 Superclub Saturdays
Two venues, 6 rooms, 1 huge party!
NOW OPEN Superclub Saturdays! 2 clubs for the price of 1!
Become a Free VIP member. Your membership will get you 2 free drinks before 10.30pm. 6 huge rooms at the Pier Hotel & Daveys Hotel!
Drink Specials 9pm-11pm
$3 Pots
$4 Basics
$5 Skittle Bombs
$5 WP Shots
$15 - One entry for 2 venues
18+ Only - Photo ID required
Doors at 9pm
Sunday 16th November 2014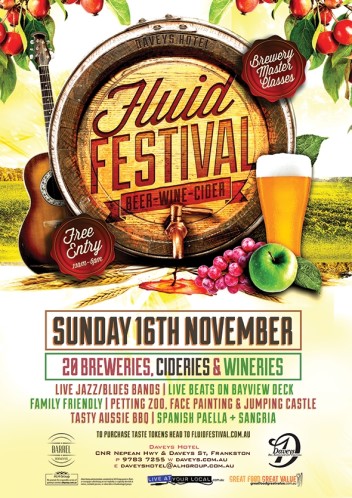 Fluid Festival
It's back on Sunday 16th November!
Round Two and Fluid Festival is back + bigger than ever!
The huge beer, wine + cider festival is guaranteed to be a great FAMILY FRIENDLY event!
Enjoy Beers by the Bay or our pop-up Cider Bar with over 20 breweries, cideries & wineries showcasing their impressive craft beer/cider and premium wines!
Live Entertainment with beats playing all day and LIVE JAZZ AND BLUES BANDS long into the evening!
FOR THE KIDS! We have a huge petting zoo, jumping castle + face painting!
The Fluid Festival has something for everyone!
To pre-purchase taste tokens & save $$$ head to www.fluidfestival.com.au. Taste tickets available on day.
This is a FREE event
All Ages Event - Conditions may apply
Every Day Drink Specials At The Bar
Great drink specials currently available across the bar:
Boag's Draught - $6.00 (570ml pint)
James Boag's Premium Lager - $6.00 (375ml bottle)
Jim Beam White & Cola - $8.50 (275ml bottle)
Bacardi Oakheart - $7.00 (30ml nip & mix)
Wine of the Month: Brown Brothers Crouchen Riesling or Dolcetto Syrah - $6.50 (150ml glass), $28.00 (bottle)
Conditions may apply. Enjoy responsibly.
Every Thursday Night from 7pm until late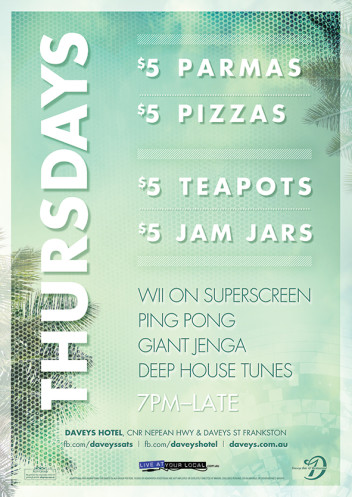 Thursdays
Your night starts here!
Your Thursday night warm-up starts here!
$5 JAMJARS | $5 TEAPOTS | $5 PIZZA | $5 PARMAS
Start your night out playing our brand new arcade games, giant jenga, ping pong, + wii on our 2m superscreen!
$5 Drinks + Feed all night!
Deep house tunes playing to get you warmed up!
This is a FREE event
18+ Only - Photo ID required
7pm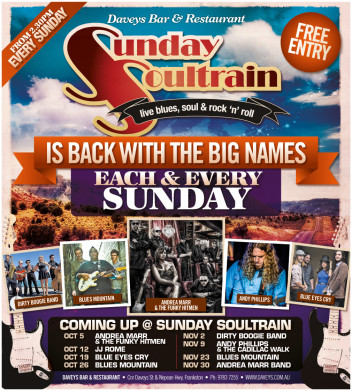 Sunday Soultrain
Every week at Daveys!
Join us every week for Sunday Soultrain! Entry is FREE from 2.30pm every Sunday.
Coming up @ Daveys - November:
2nd - DIRTY BOOGIE BAND
9th - ANDY PHILLIPS & THE CADILLAC WALK
23rd - BLUES MOUNTAIN
30th - ANDREA MARR BAND
This is a FREE event
All Ages Event - Conditions may apply
From 2.30pm